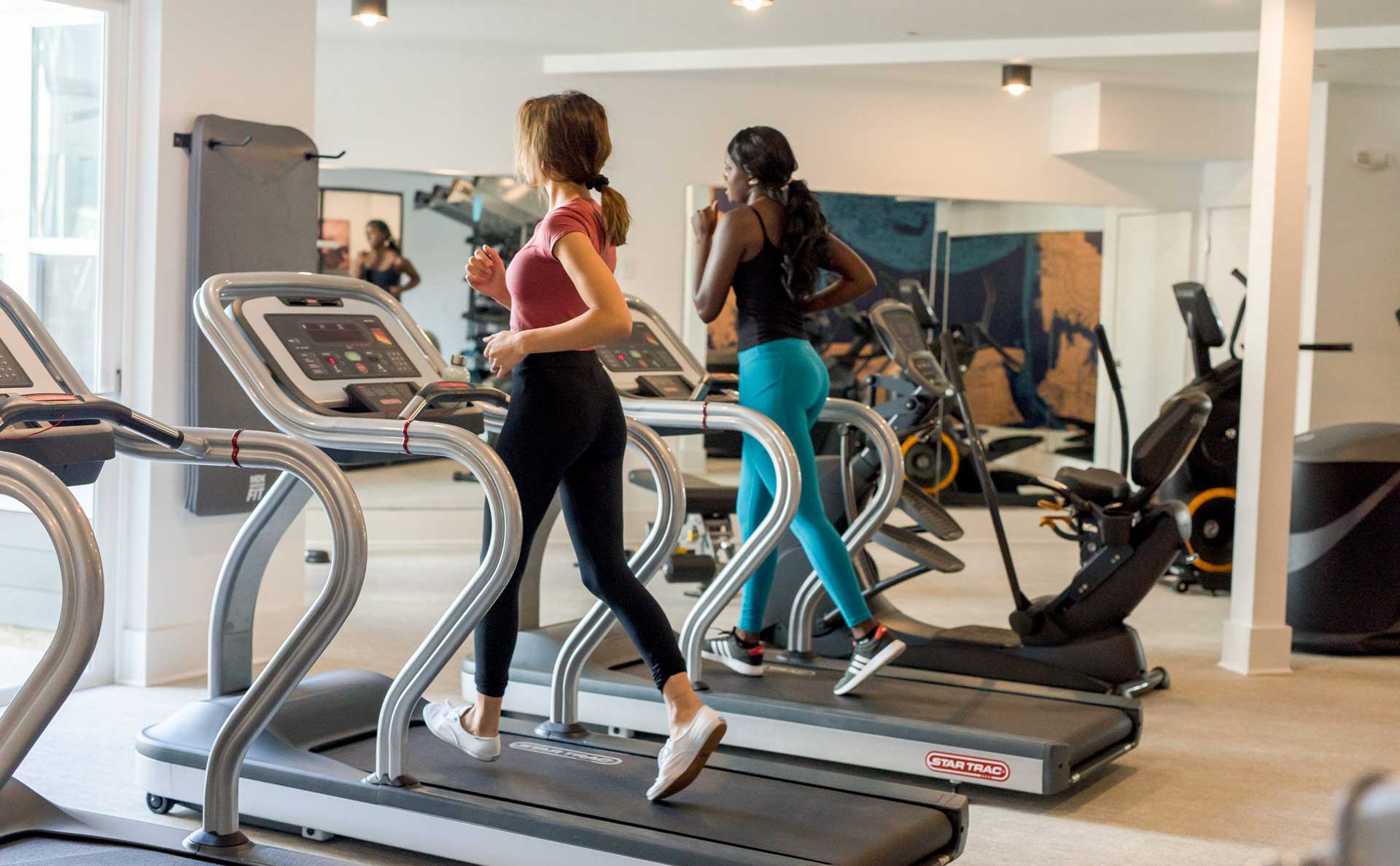 Fitness Center
with Waterfront Views
The Pearl's state-of-the-art, 24 hour fitness center was designed to give you the best in interactive fitness, weight training, cardio equipment and more. Whether you prefer to clock your early morning miles on the treadmill or unwind with a good stretch inside our spacious yoga studio, we have everything you need to help you reach your goals.
Check out what each of our two fitness areas have to offer:
Yoga Studio
Our yoga studio is fully equipped with yoga balls, mats, straps, and blocks as well as Stager cycle bikes, dumbbells, and kettle balls! Give our on-demand fitness tablet a try for fun, interactive strength and cardio classes! Keep a lookout for our Yoga By the Pool classes to enjoy a relaxing workout by our resort-style pool with beautiful waterfront views and bay breezes.
For those yogis who prefer to practice in a classroom setting, Bamboo Yoga is located right across the street and residents get a 10% discount on any 10 pack of classes!
Gym
Our state-of-the-art gym features high end fitness equipment designed to give you a leg up on your fitness goals. Featuring Les Miles bikes with screens, Hurst machines, Crank Fit straps, Star Track treadmills, a Hydrow Rowing Machine with Screen, Octane Fitness Ellipticals, battle ropes, cable machines and foam rollers, you'll have access to the best workout equipment available. Additionally, the gym stocks TKO dumbbells, medicine balls, and a variety of kettle bells. Cool off with the bay breeze out on our gym patio after a workout and don't forget to fill your water bottle at our water bottle refill station!
If you're interested in joining a larger, standalone gym, The Pearl residents get 15% off annual membership ($51 per month VS $59) and only $25 to join (versus the regular $99 initiation fee) at Inlet Fitness – located on 2101 West Great Neck Road just a quick drive or walk away!
Picture Yourself
Living Here
Live the coastal lifestyle you deserve. From natural light-infused floor plans to high-end amenities, The Pearl at Marina Shores has everything you're looking for in a new, luxury home in beautiful Virginia Beach, VA.  Please fill out the form below if you would like more information.