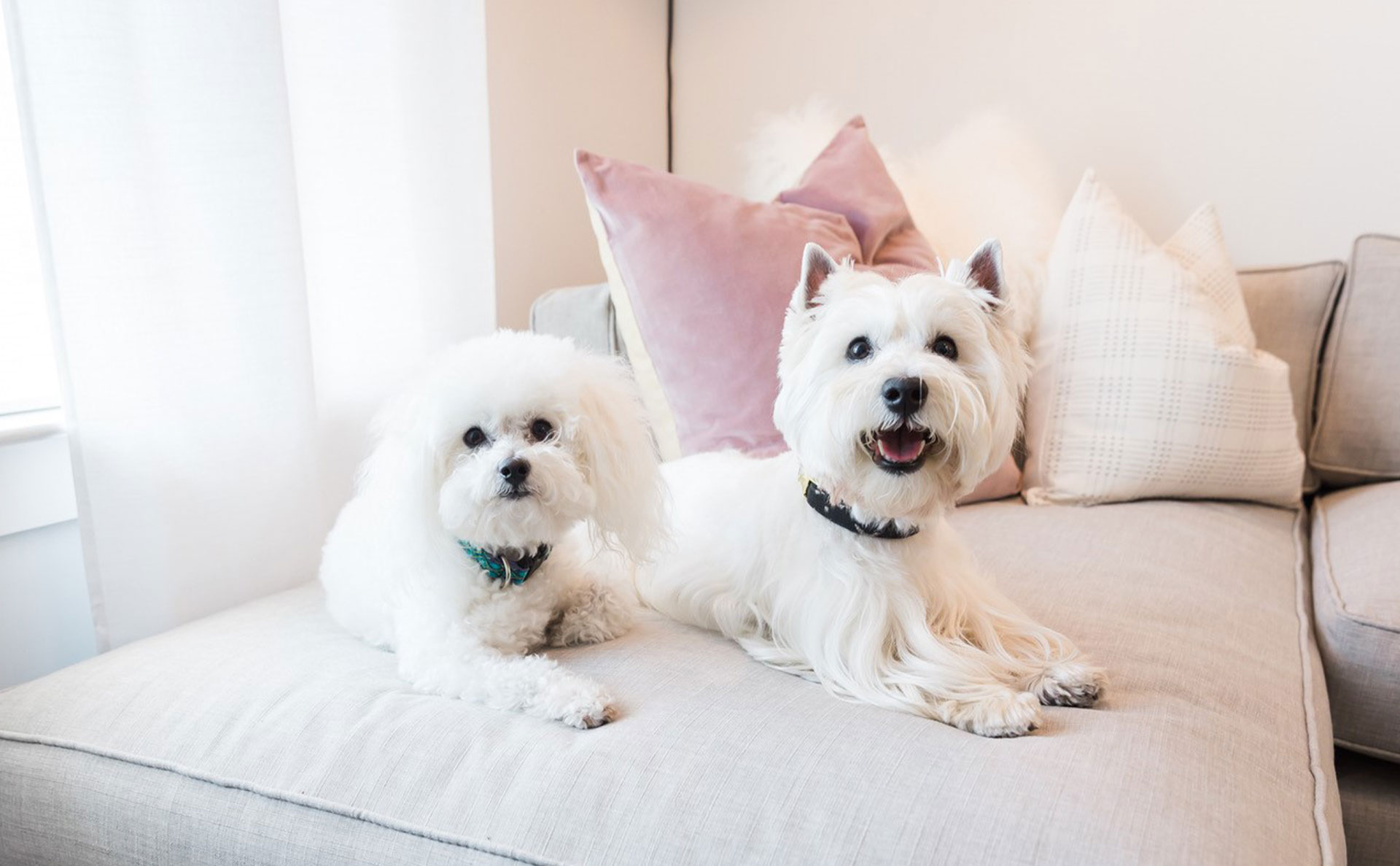 Pet-Friendly
Luxury Apartment Community
Walk the boardwalk or jog along the beach with your best friend. Catch a cat nap in the sun beside your feline family members from inside your bright, light-filled apartment. Both you and your four-legged loved ones are home at last in our truly pet-friendly community in Virginia Beach.  Our waterfront location means you'll be surrounded by the best nature has to offer, giving you and your dog plenty of room to explore, exercise, and engage with new canine buddies. Make the most of our extraordinary community filled with pet owners and bring your whole family home to The Pearl. Your pet's new best friends are here waiting to meet them!
Our pet-friendly community includes:
Dog Park & Pet Spa
Percentage of all pet fees donated to Virginia Beach SPCA
Complimentary treats in the Leasing Office
Discounts at Salon Versace
Looking for a place that welcomes furry friends both big and small? We welcome a variety of different kinds of cats and dogs, but do have a 90lb combined weight limit (for residents with more than one pet) for those wishing to live on the 2nd, 3rd or 4th floor. If your pets are 100lb or more (alone or combined) your new home will be located on the first floor. This way, your pets can play in peace without the possibility of disturbing a lower-level neighbor, and you can have your furry friend with you regardless of weight!
Dog Park
Take your dogs to our dog park at The Pearl to run around and play until their heart's content! The Pearl is also close to the Bay and First Landing State Park. In summer, take your dog for a jog on the beach from 10am to 6pm or take a walk through First Landing State Park. Your dogs need their space and exercise, and we are happy to be near and provide a space for them to run around and get fresh air!
The Bayville Dog Park and several pet-friendly restaurants such as Ballyhoos, Dockside, Leaping Lizards, and Commonwealth Brewery are also nearby for visiting!
Pet Spa
After a day at the beach, your furry friend is bound to be wet and sandy! Get them tidied up right at home at The Pearl's free pet spa! Our washroom offers all you need to get your pet washed up – hooks for towels and leashes, spray nozzle, and an A/C unit for temperature control. You won't have to go far to ensure your pets are nice and clean!
If you don't want to wash your pet yourself or don't have the time, The Pearl residents get a 10% off discount all services for Zoomin' & Groomin', a mobile pet salon. Contact them today to ensure your pet will get the most wholesome and pampered experience, right to your door! Or head on over to Salon Versace for a 10% off discount for dog wash and grooming services!
*Signature Management Corp. does not allow the following aggressive breeds or any mix thereof:  Rottweilers, Pit Bulls (American Pit Bull Terrier, American Staffordshire Terrier, American Bully, and Staffordshire Bull Terrier and any combination deemed such by management), Doberman Pinschers, Chows, Akitas, Siberian Huskies, Wolf-Hybrids, Presa Canario, Great Danes, and German Shepherds.
**There is a $500 non-refundable pet deposit and $35/month fee for all residents who wish to keep their cat or dog with them at The Pearl.
** Two pet limit.
A portion of every pet fee is donated to the

to support the amazing work they are doing in Hampton Roads, VA.
Picture Yourself
Living Here
Live the coastal lifestyle you deserve. From natural light-infused floor plans to high-end amenities, The Pearl at Marina Shores has everything you're looking for in a new, luxury home in beautiful Virginia Beach, VA.  Please fill out the form below if you would like more information.